Design From Scratch
July 29th, 2019 | by paytonfry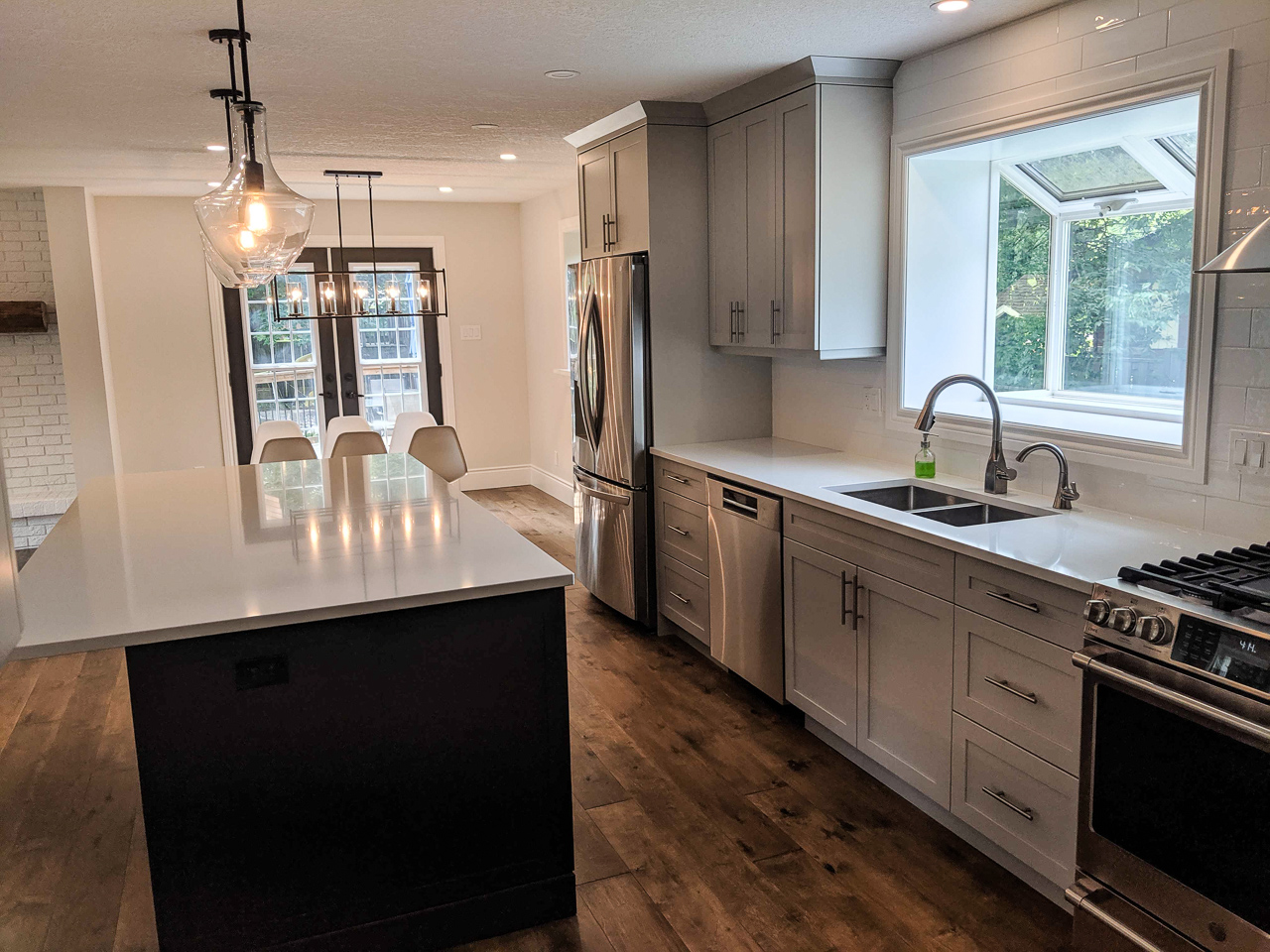 What's a family to do when their dream home no longer measures up to their growing needs? We often hear from homeowners who wish for more from their home. For this family, their home in New Dundee is nestled on a beautiful corner lot that overflows with exterior charm. Its traditional vibes were so inviting but the broken up floor plan just wasn't cutting it! So what's next?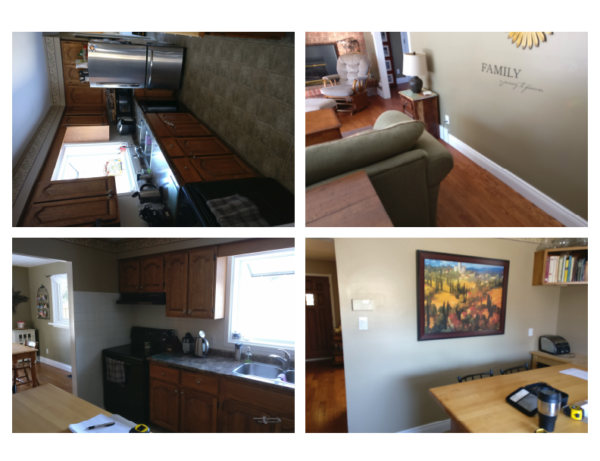 Meeting our clients for the first time is always exciting. As a part of our unique Design-Build process, initial site visits with our Sales and Design team ensure that our client's vision is understood and to determine an initial design concept for principal spaces and areas of interest. Our consultation revealed that this busy family of five dreamt of gathering with friends and enjoying family time in a space where no one had to shout from the other room!
The interior of this home did not reflect our clients' warm and welcoming demeanour; which meant that several walls separating the main floor had to come down. This type of wall removal would not have been possible without help from our friends at Tacoma Engineers. A hefty 1200 lbs steel beam was specified (one of our biggest yet!) in order to keep it flush to the ceiling, eliminating the need for a bulkhead. We maxed out it's size at 28′ which meant our design team had to get creative and hide two posts within a beverage bar and pantry, as well as the fireplace! This created a beautiful space which now boasts an open concept great room, kitchen and dining experience.
Once we opened up the foot print of the home we were able to make major strides in improving the overall function and beauty of this space! Appliance placement was key: We allowed for full extension of appliance doors and counter space on either side of the stove. Removing the wall that separated the kitchen from the foyer and living room allowed us to include a spacious island for casual dining, cooking and entertaining. An island did technically exist when we arrived on site, but was just too tight to function the way it should. Custom cabinetry allowed for loads of drawer space, a double waste bin, spice pull out, cutlery drawer and a microwave integrated into the island!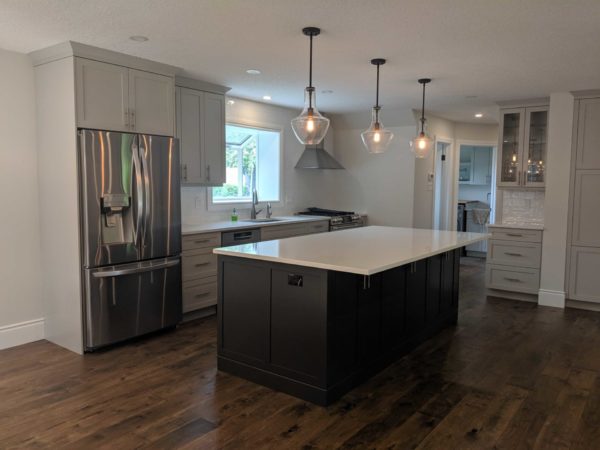 Nearly 70% of the world's population are visual learners, and at Catalyst we recognize that in order to understand the project that lies ahead, our clients love to see it unfold in front of them before we break ground. As part of our unique Design-Build process we curate and present concept boards and sourced materials for your project simply so you don't have to! Design work can evolve from our initial meeting to start of project, but these boards create peace of mind in knowing that each material will work harmoniously throughout your home. Below is a sample showing how this kitchen would lay out prior to the start of the project.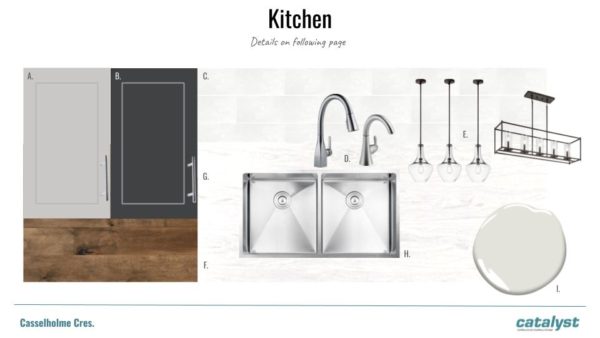 The transformation didn't stop with the kitchen, but graciously moved into the living room and laundry area. A tired brick fireplace and wooden bookshelf was transformed with a fresh coat of white paint, new gas insert and crowned with a beautiful (floating) rustic beam mantle.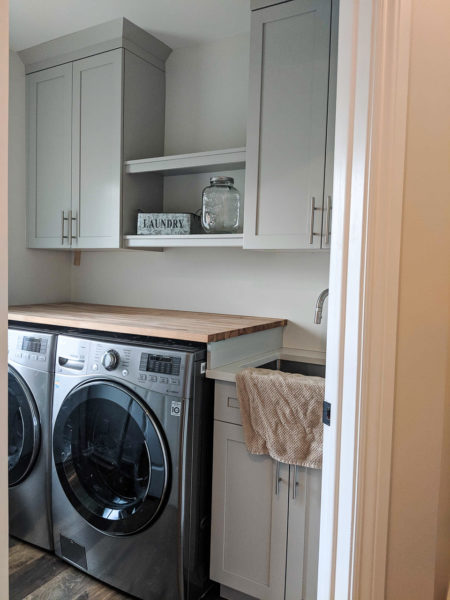 Laundry was moved from the basement to the main floor, into a space that was formerly used as an alternate entrance to the home from the backyard. We placed the laundry pair side-by-side and added a spacious laundry sink with base and upper cabinets as well as floating shelves for added storage. At the last minute we opted to swap the quartz countertop for a removable butcher block slab over the laundry pair for easy access to shut offs or for maintenance down the road.
Other highlights of this renovation? We updated baseboard and casing throughout, installed a new front door and painted both it and a set of garden doors leading to the side yard in the same Wrought Iron grey colour as the island. This created the perfect amount of contrast against the Nimbus grey cabinets and soothing off white wall colour.
Your home is so personal. We can hardly contain our excitement when we can officially hand back the keys for your family to enjoy! Our incredible crew is often complimented not only for their wide range of talents but for their keen attention to detail and passion for your project. It's a big part of what we do to bring you home.
Design From Scratch
Article by: Sara Collins
Lead Designer, Catalyst General Contracting