From Builder to Beautiful
November 21st, 2019 | by paytonfry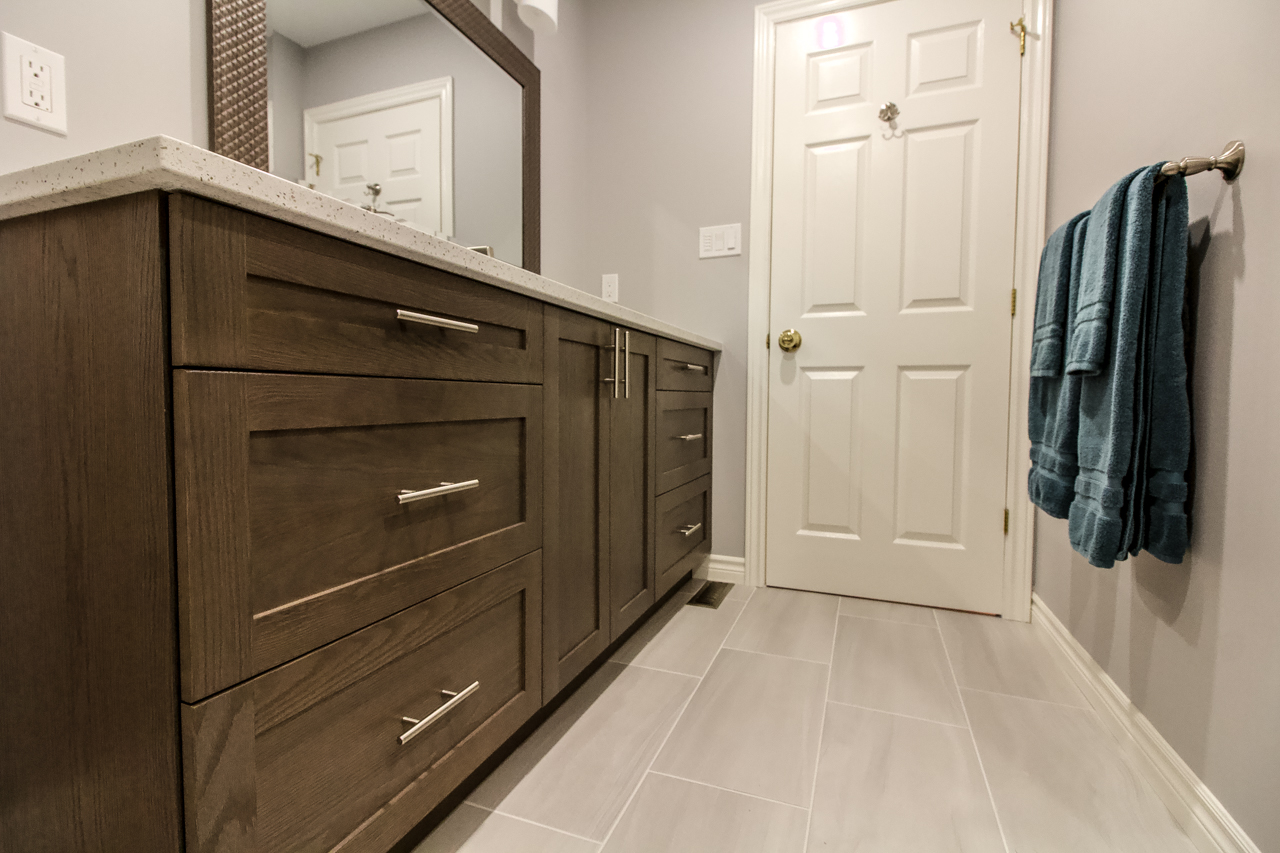 Raise your hand if you've got a room or two in your home that doesn't make you smile. One that doesn't function well, or serve a meaningful purpose. One that has turned into glorified storage or that is constantly moving down the priority list.
At Catalyst, initial consultations with homeowners are my favourite – We get to view these spaces in their vulnerable state and help our clients begin to problem solve or explore new ideas on how to make the most of their space, making it more cohesive with the rest of the home. It's where we ask about pain points; what you currently don't love about the space and perhaps what you do love. It's how we collaborate on a plan to bring a smile back to your face – how we bring the WOW!
When I first met with our homeowners on this particular project, we knew they weren't exactly short on space but that both identified pain points in two areas of the home: His? The bathroom. Hers? Their spare bedroom. Neither were designed with their lifestyles in mind and weren't properly utilized. Eager to get started, we worked through what wasn't working in the bathroom and devised a plan to improve upon it. So how did we do it?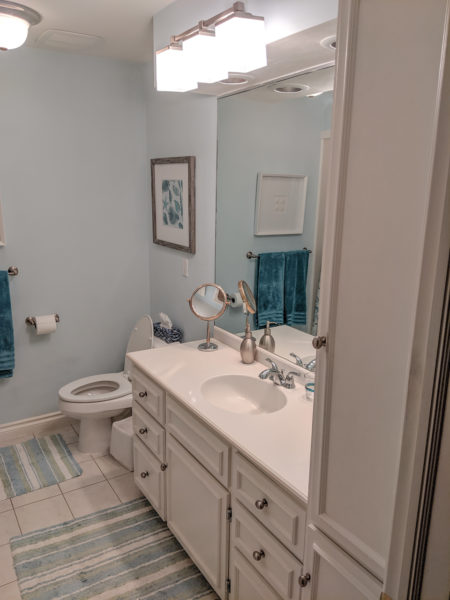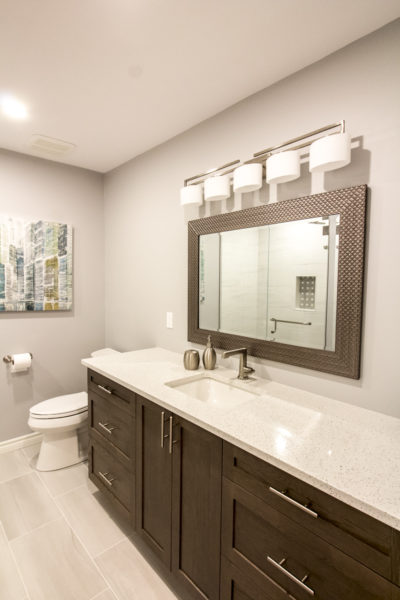 First, we demolished the existing linen closet to open up the room. It was never used to it's full potential anyway and its removal allowed for more light to come into the space. We installed a custom built Maple vanity with two sets of 3-drawers that offered plenty of storage. Why not go for a double sink you ask? This bathroom would be used solely by a single member of the household who desired more counter space over a second sink. We kept the look classic and warm, with a mix of stone, warm woods and sleek nickel finishes. The jewel of this vanity, hands down, was the Levoir faucet from Brizo which added a very sophisticated sightline in the space.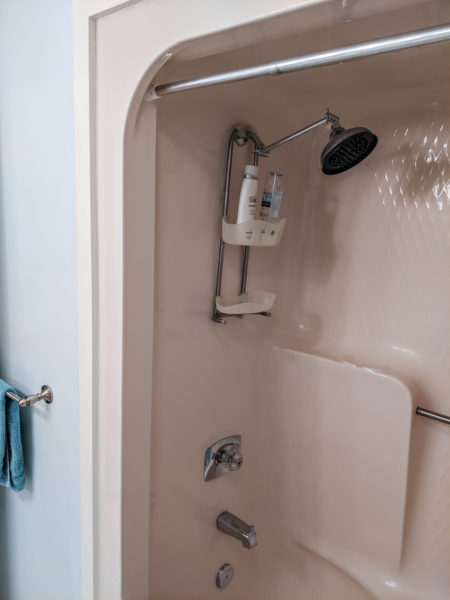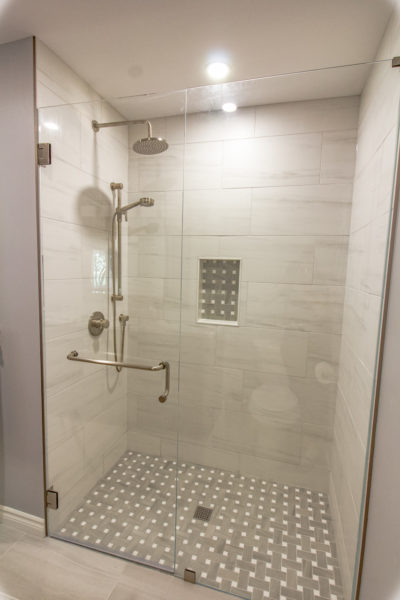 Next, we broke apart the standard bathtub surround which had been known to leak a time or two. Leaks aside, the surround simply didn't offer a comfortable experience for Peter. Instead, we constructed a custom walk in curbless shower with customized shower components such a rain head shower head and slidebar hand shower that created a truly invigorating bathing experience. We built in a tiled niche to host and organize all bathing essentials.
Hot tip: Adding a single pot light in your shower does wonders!
Next up? A sewing room that moonlights as a guest room.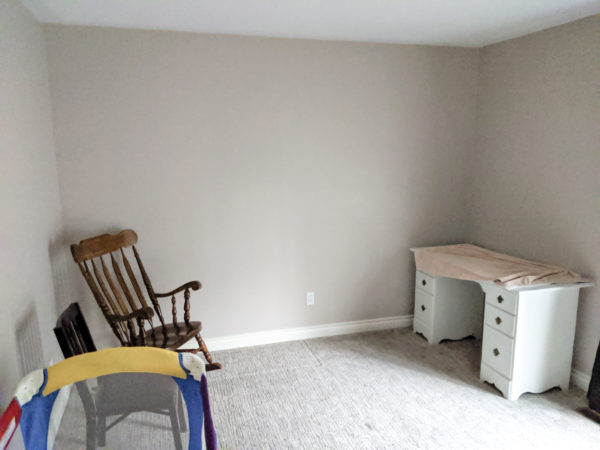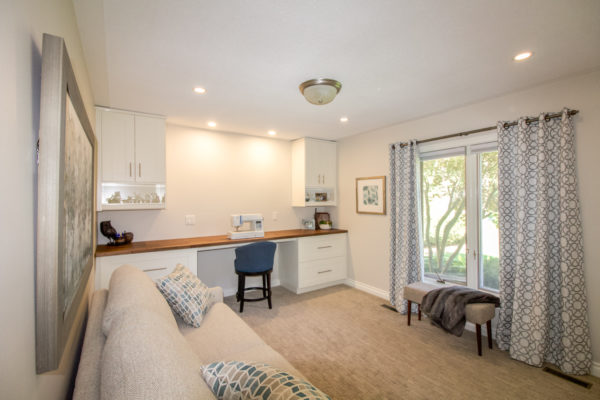 Jennifer is a creative soul who found she never had a well organized, well designed room in the home to dedicate to her sewing endeavours. At first this space felt very much like a blank slate. With a few pieces of furniture throughout, the space didn't boast much of a purpose. The first order of business was to make the most of the back wall by designing a wall-to-wall sewing desk with storage, butcher block countertop and ample lighting. We provided adequate outlets for any machinery needed and gave the walls a fresh coat of paint to bring in more light.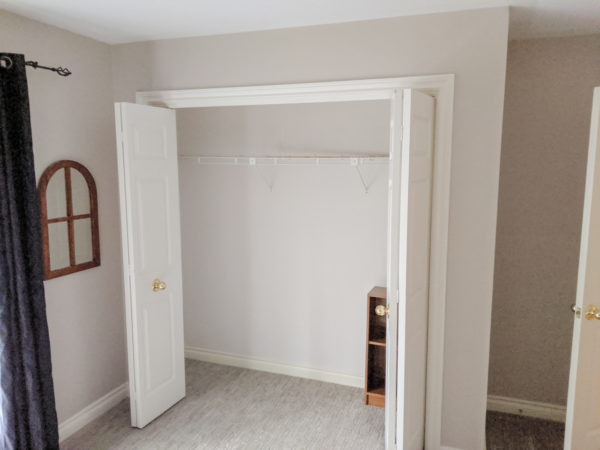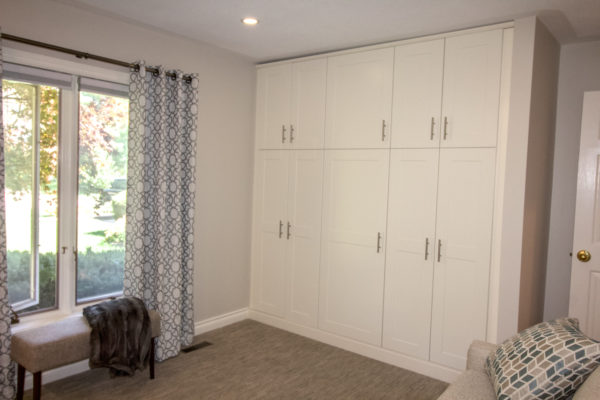 Next, we eliminated the large closet and said goodbye to those bifold doors! In its place we designed built in floor-to-ceiling pantries for added storage. A pull out sofa bed was brought in to fill out the space, provide seating and was the perfect solution for those occasions when the sewing room hosted guests overnight.
We began this renovation process with a well planned concept and a clear vision that ultimately connected these spaces to the rest of the home. The bathroom and sewing room now boast a design that is intentional, functional and beautiful. It was a pleasure to bring the WOW to this home, for these truly wonderful clients!
Building Trust | Building Change
Article by: Sara Collins
Lead Designer, Catalyst General Contracting