'Tis the season for Fall, Y'all
September 25th, 2019 | by paytonfry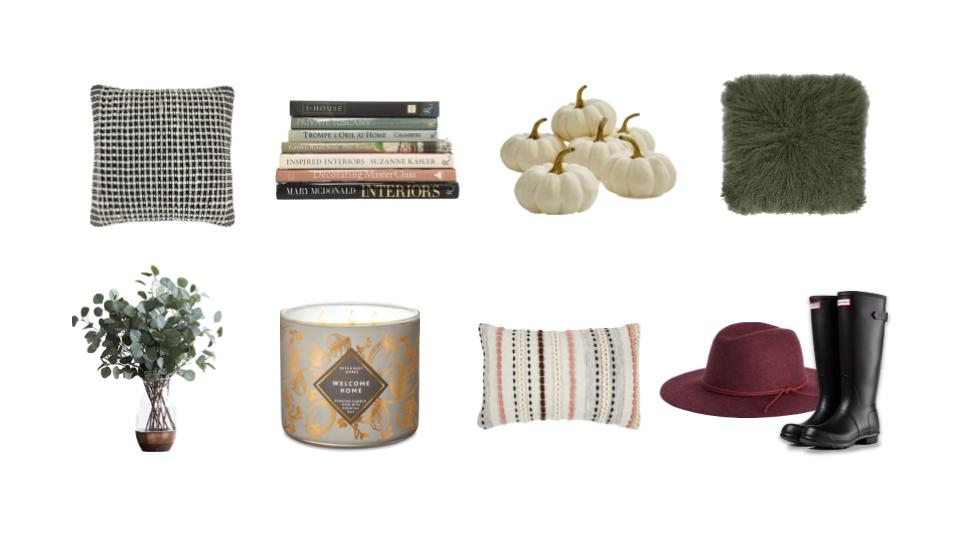 The arrival of Fall means more than retiring your denim shorts for a pair of black leggings.
At Catalyst, we're always forecasting a season ahead. It's how we track and schedule current and upcoming jobs, and how our interior design team stays on top of trends in home decor.
With mega centres such as Home Sense flooding their aisles with pumpkins, burlap and buffalo check galore, it can be tricky to differentiate between tchotchke and your true sense of style. Our biggest piece of advice? Seasonal home decor should always enhance your everyday home furnishings, not clutter them. If you're not careful, these pieces become dated and useful for a short period of time and take away from valuable, anchor pieces in the room such as a cozy sectional or coffee table. Below shows how easily you can transition a room from Summer to Fall by following a few tips and tricks from our Lead Designer, Sara Collins.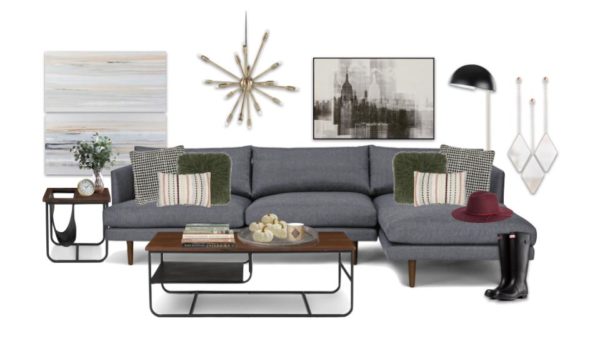 #1. Seasonal decor should be a part of the room's conversation but not the centre of attention.
I'm a huge fan of a beautiful tray on a coffee table. It's a simple way to organize and show off small, seasonal items in a vignette without overpowering the room. Here, we've added an iron tea tray with a warm gold hue. It quickly becomes home for a number of white pumpkins (or gourds!) and a delightful fall candle. Beside it, a stack of vintage or pre-loved coffee table books in a stack create height and add soft fall tones that lend well to the Walnut coffee table. Tip: Always scour your local thrift store's book selection. I first look for a general size, shape or colour. More often than not, simply peeling back the dust cover of an old book will reveal a beautiful spine that you might not have ever known existed!
#2. Switch up those throw pillows!
Of course, this seems quite obvious to anyone within the design community, but it is the easiest way to bring a new mood to your space. Here we've added colours in our throw pillows that a client may have never considered – like this Olive Green sheepskin for example! With an otherwise neutral room, this is the easiest way to add warm, crisp pops of colour to your everyday decor. If Olive Green isn't your thing – try reaching for a rich Aubergine, Rust, or Navy tone.
#3. Texture, texture, texture.
I'm a huge fan of layering in a room. With cooler temperatures just around the corner, I find myself grabbing for not only cable knits and wool, but Velvet and even Corduroy! Sprinkle in some mixed metal and wood accents for a subtle, natural and cool contrast to all those warm textures.
#4. Avoid purchasing all the things in your shopping cart.
Decorative accents are bountiful everywhere. One minute you're packing up for your last scheduled camping trip or watching your young ones joyously run through the splash pad (no judgement from us if you are too) and the next? Suddenly all your favourite stores have seemingly decided that it's time to start thinking about Fall before kids are even back to school. Technically, this is a great time to shop while inventory is high. I always encourage our clients to limit their decorative accents to a few all star pieces to place around the room. Purchasing too many items can overwhelm you and your home, whereas a few select items will shine! Never, ever purchase a decorative piece if you don't love it. This may sound obvious, but if you don't absolutely love it in store, the chances are pretty good that you won't love it at home.
#5. Be true to your design style.
When in doubt, always honour your home's heartbeat and only invest in pieces you truly love. A big part of my job to guide your design choices and encourage you to explore design outside of your comfort zone. That being said, if a purple velvet throw pillow just isn't your thing, it isn't your thing! My tips to our readers are always based on the questions I'm asked regularly and are meant to fine tune those last minute trips to HomeSense or any late night online shopping hunts – Don't worry, I'll help you hide the extra packages that show up on your door step.
A big part of what we do at Catalyst is strategically plan our projects with our clients. Our Design-Build process is driven by your input to create and design the custom space you've always dreamt of! Our team presents concept boards for your renovation before we break ground on your project, similar to the ones shown above. Below, we highlight our favourite fall pieces (from this blog post) used to transition this living room for the Fall season ahead!
'Tis the season for Fall, Y'all
Article by: Sara Collins
Lead Designer, Catalyst General Contracting